Good evening!  Are you in the middle of watching the Superbowl?  We paused it to put the kids together so Matt and I still are in the first half of the game.  We can't fast-forward (don't want to miss the commercials!) so it might be a late night.
Before I get into last week's workouts I wanted to share something from my friend, Lindsay's blog: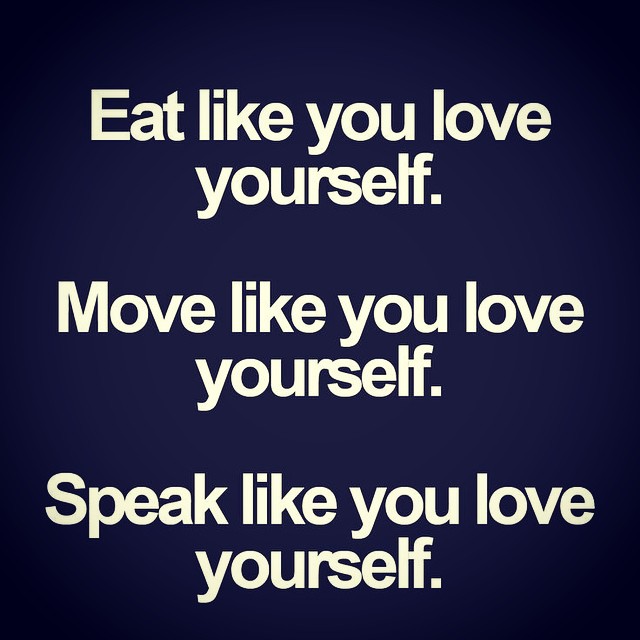 She posted this last week, and I shared it with my classes and asked her for permission to share it with all of you.  I have found it so motivating.  I am very grateful that I am able to move my body and am able to eat wonderful foods.  And I think we could all learn to cultivate our inner language to be more loving to ourselves.  Beautiful, right?
In continuing to move like I love myself, here were the weeks workouts.
Sunday:  Yoga at M Power Yoga.  Wonderful, slightly heated practice on a snowy afternoon.  It felt SO good.
Monday:  Crossfit "Jack."  I flipped open my book of workouts to this one randomly.  And my shoulders were sore for 2 days.  Jack – as many rounds as possible in 20 minutes of:  10 push presses, 10 kettlebell swings, 10 box jumps.
Tuesday:  I was traveling so I didn't get to teach my normal class (boo!) but got in a quick 30 minute P90X yoga-like video.
Wednesday:  RPM (cycle class) taught by my friend, Melissa.  I love her energy and rarely get to take her classes.  It was a treat!
Thursday:  2000m row and TRX
Friday:  Taught cycle
Saturday:  rest day