Jack was 5 months old yesterday.  We are all smiles here in the last month.  Jack has grown so much, and his personality is growing along with the rest of him.  His squeals light up my day, and I can't help but smile every.single.time he giggles.    
We've had some great moments over this past month with Jack's first non-friend/non-family babysitter (we all survived).   Jack also figured out how to get his feet in his mouth.  His first experience involved biting his toe so hard he left a mark.  No crying from him, but I saw him slowly put his foot down.  He also works hard to pull himself up to sitting.  He loves to do this in the tub and basically holds a V position with his little abs.  I bet he gets sore!!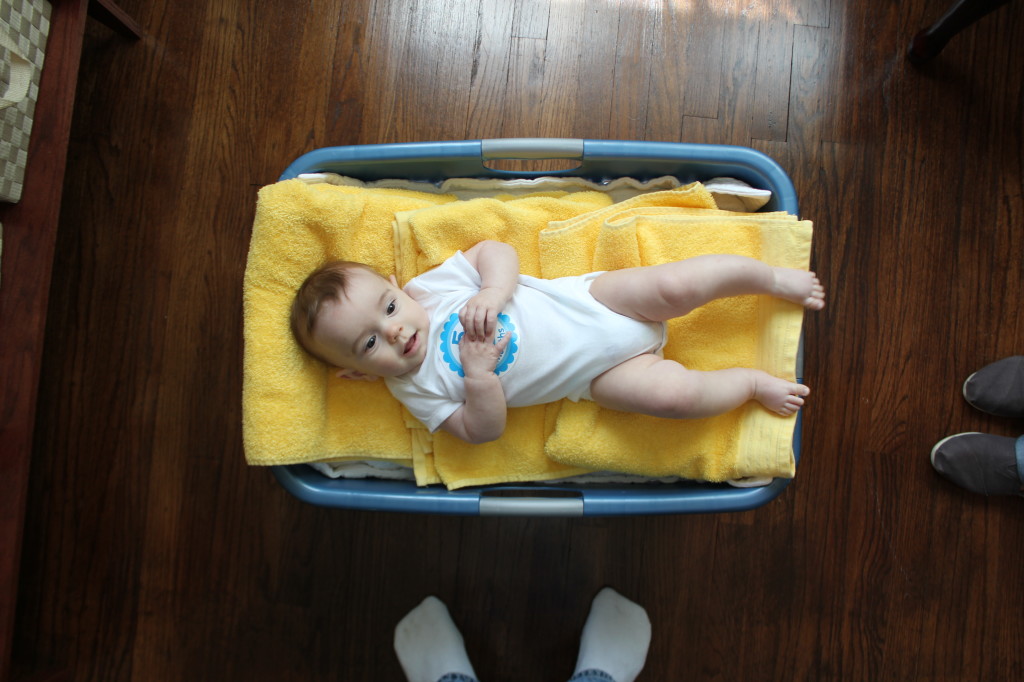 One of the biggest developments this month is that he plays independently.  He is happy to lay on his playmat talking and playing with his toys for a good 20 minute stretch.  He entertains himself with squeals, looking at his hands, grabbing for things, and lots of kicking.
Sleep is going so much easier too.  We have a nice bedtime routine of feeding, singing and rocking.  We put him down in his crib around 8, awake, and tell him goodnight.  He usually falls asleep shortly after we leave his room.  He has a wakeup somewhere around 3am for another feed and then falls immediately back to sleep before waking for the morning around 6:45 or 7.  For his morning wakeup, he likes to slowly wake up and talk to himself before Matt or I go to get him.
Likes:
Kicking in the evening.  He likes to spend about 15 minutes bicycling and rapid-fire kicking.  He has such focus!  Bonus if he can have Matt's stomach to kick against.
Watching parents eat and drink
Most music, especially if mommy or daddy is singing
Going for walks in his stroller
Putting weight on his legs while "standing."  This always get a  huge, open-mouthed smile
Bath time
Funny noises and silly faces
Dislikes:
Bob Marley – I don't know what it is but we have to get it off the radio immediately because Jack protests whenever his tunes come on.
Having his nose wiped
Crashing noises.  Matt got a huge frown and tears after dropping a bowl tonight.
I love looking back at how much he has grown and changed each month:
This next month will bring many more good memories and milestones.  I need to do some food research in the very near future.  Jack will be starting food soon!!