No, no, no. Not THAT kind of friends with benefits. I am referring to the benefits of being involved in the fitness community in Kansas City. One of my dear friends/running budding/favorite TRX instructor/Lululemon Ambassador, Jenny, invited me to a Lululemon Fit Session at the Country Club Plaza location.
Lulu asked Jenny to find some of her favorite fitness instructors/trainers that don't wear a lot of their clothes to come in the store to try on lots of stuff with no pressure to buy. I have a couple of pairs of Lululemon yoga pants that I love but have always been hesitant about spending the money any of their clothes to get drenched in sweat from spinning or running. Their super fun staff helped me pick out clothes that fit for my activities (mainly spinning and running) and asked for feedback about what I liked most about the items I tried.  And what a funny coincidence! Kellen, who helped fit me, took my spin class that morning. So he saw me in action during the morning and knew just how sweaty I get!
My favorites of the day included the Cardio Kick Tank, pictured below.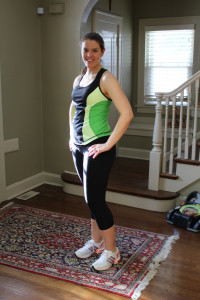 I really like the fabric "Luxtreme" because it is amazing at keeping me dry during a really sweaty spin class. And the pattern on the shirt flattering for the waist. I think I will like this shirt a lot for spin classes and other cardio or weights classes. I have worn and washed it a couple of times and have been impressed with well it has washed.
I also tried on and liked the Run: Back On Track Tank.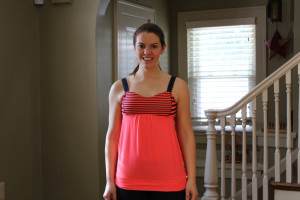 The color is bright and fun and the fit is so comfortable. The length is especially nice in a spin class because it does not ride up. It has a drawcord that will make sure it does not ride up on outside windy runs either. The material is super soft.
I also picked up another pair of the Wunder Under Crops. I already have a pair but have reserved them for yoga. They are such great pants, though, that I decided I would get another pair for spin classes and running. I am loving them!
Be sure to check out Lululemon Plaza's facebook page for new products and events at the store – like the Monday night run group from the store (LOVE!) and the awesome weekly Sunday yoga classes (free!) taught by some of the best yogis in the city.
(Disclaimer: Lululemon gifted me the Cardio Kick Tank to keep and try. I loved the other two items and purchased them with my own $$)