Matt and I had a home date night of sorts last night.  We did lots of cooking after the kids were in bed for the night.  A little bit more elaborate meals, chopping lots of veggies, checking out new recipes – it felt like old times.  We made this dressing last night and I tried in on a salad today.  Wow!  It is wonderful and so fresh.  It is very reminiscent of the tangy ginger dressing at Japanese steakhouses.  So even if long, fancy dinners out are few and far between we can still enjoy some great food.
Zingy Ginger Dressing (barely adapted from this recipe at The Clothes Make the Girl)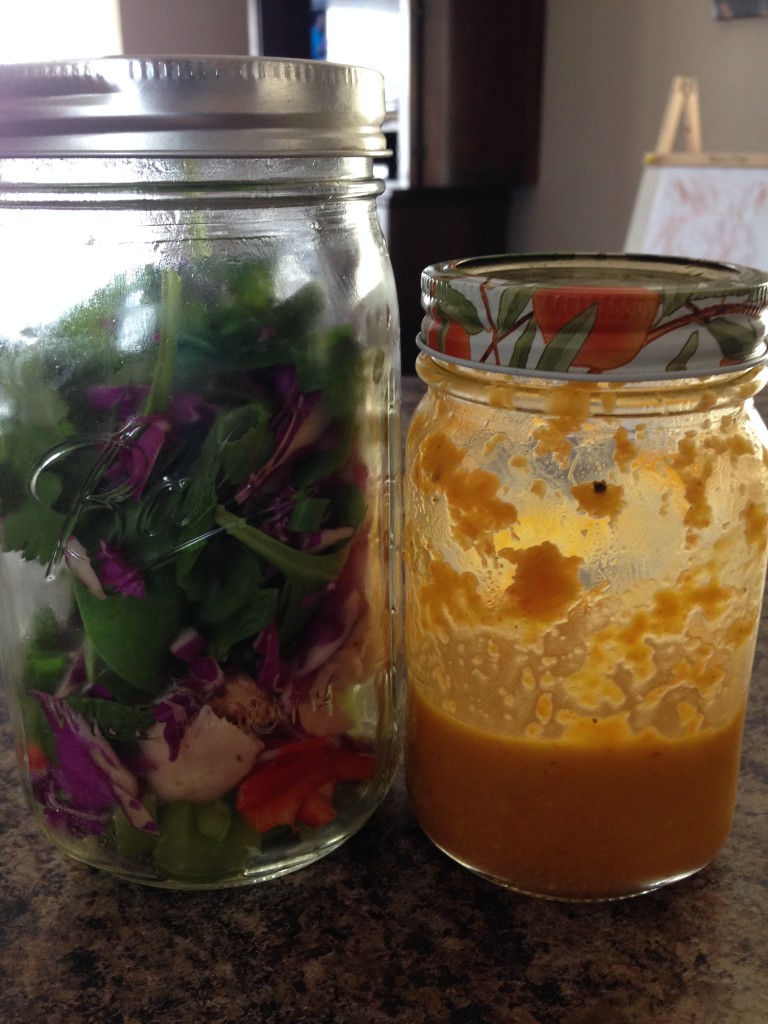 Ingredients:
1/2 cup  olive oil 

1/4 cup rice vinegar

1 tablespoon coconut aminos

2 medium carrots, peeled and cut into chunks

1/4 medium yellow onion, peeled and cut into chunks

2-inch piece fresh ginger, grated

2 teaspoons minced garlic

salt and ground black pepper, to taste
Directions:
Combine all ingredients in a food processor and purée until smooth. Add water 1 tablespoon at a time, if necessary, to reach your desired consistency. (I only needed to add 1)
Melissa (of The Clothes Make the Girl) recommends you let the dressing sit for at least 10 minutes before eating.  I plan on eating this on salads all week. Let me know if you try it!
It was a strong week of fitness.  My squats are getting deeper and I feel more "me" again.
Monday: Bodypump (woohoo! 5:15am)
Tuesday: am Ran 1 mile and Barre, pm Taught cycle
Wednesday:  Bodypump
Thursday:  Taught a chipper style TRX class.  This was a great one!  I saw one my regulars today and she said she was happily sore.  (I skipped out on the rowing to coach but the ladies seemed to appreciate the extra cardio).  If you don't have a TRX you could adapt most of these exercises to just use body weight.
100 jump ropes
90 TRX squats
100m row
70 TRX sit-ups
60 TRX mid rows
50 walking lunges
400m row
30 TRX chest presses
20 TRX pull-ups
10 burpess
Friday:  taught cycle
Saturday:  off
Have a great week!