Hello, there! Our happy little boy has shared in lots of fun over the last month, including celebrating Jack's 5th Birthday (Leo completely lit up with all the singing) and celebrating Christmas (with trips to Rossville and Effingham, and meeting Santa).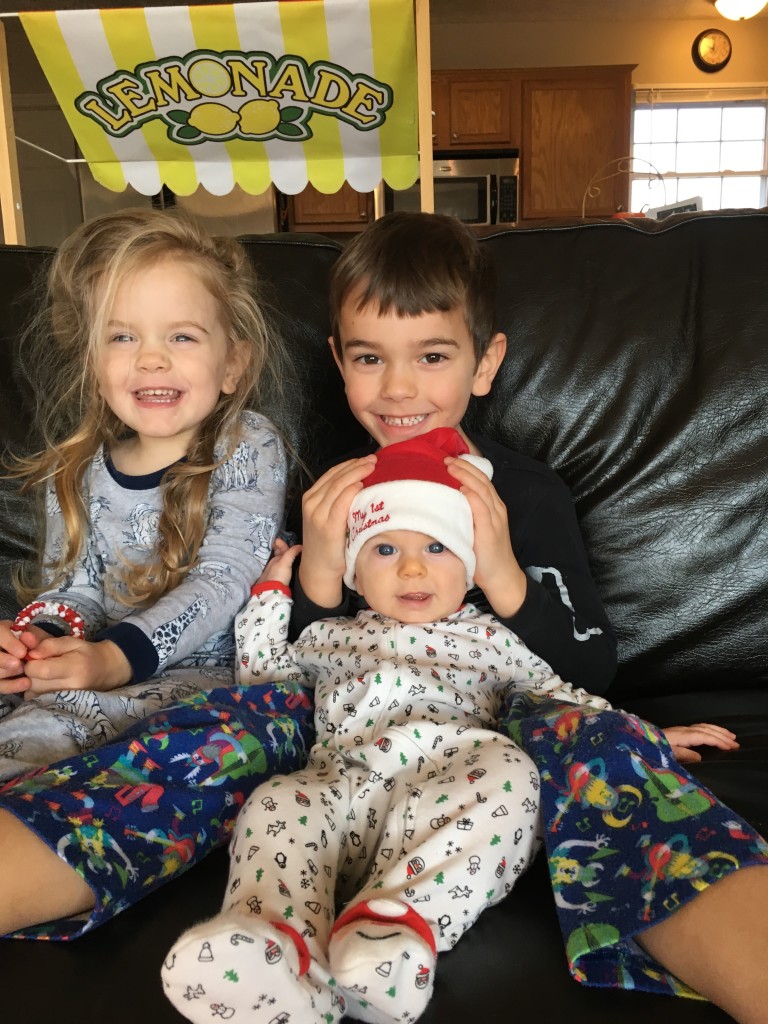 Santa was really good to Leo with an interactive train, Sophie the Giraffe, and plenty of new books. Leo was thrilled and "played" with his train for a really long time Christmas morning. He loved being right in the middle of Jack and Audrey opening presents and playing. I can already see how much fun Christmas mornings with three kids is!!
He also experienced his first snow (didn't seem that impressed), and started daycare last week. I absolutely adore the teachers in his room. They also cared for Jack (after we moved to West Lafayette) and Audrey. We load all three kids up in the morning now to go to the same place. J & A love brining Leo along.

Despite his super happy personality, Leo is doing a lousy job of napping. He doesn't seem to want to shut it down but I am hopeful that he will get better about napping each week. (also hoping that nighttime sleep starts to get more predictable!)
In documenting what Leo is like this month…You know those babies who just want to be held and just relish every cuddle? Yeah – that isn't Leo! Haha! That boy wants to move! He doesn't fall asleep cuddling, and he really prefers to be held facing out so that he can keep tabs on his siblings. He is great on his tummy, and tries to "swim" to get places. When he figures out how to get his knees under himself we are in trouble. We have put him in his highchair a bit at dinner time so he can hang out with everyone and he seems to love being a part of everything. We are still holding off on food for about another month.
Physically he seems really long and lean, maybe a bit more so that Jack at this age (check out Jack here). And unlike his older siblings, Leo doesn't have teeth yet! It is so strange to me and Matt to have a nearly bald, toothless 5-month old (although it surely isn't to most parents).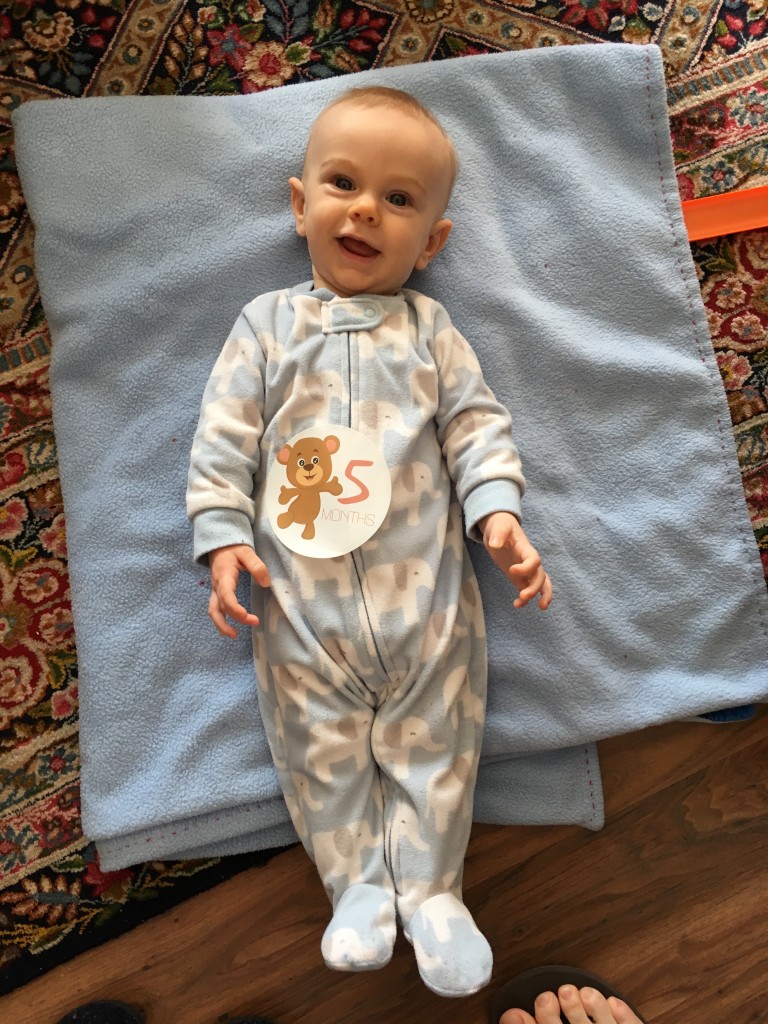 Leo is really, really funny though. He loves to smile and laugh. Matt and I talk often about what kind of big kid he'll be like. Our prediction is always on the go, and always smiling. Looking forward to seeing how his personality continues to develop over the next month!