Since booking our cruise (with details in this post), we've had lots of friends say they have considered going the Disney route as well. Matt and I loved to research some tips and tricks as part of our planning and wanted to be sure to pass along some of our tips of making a great trip with little kids.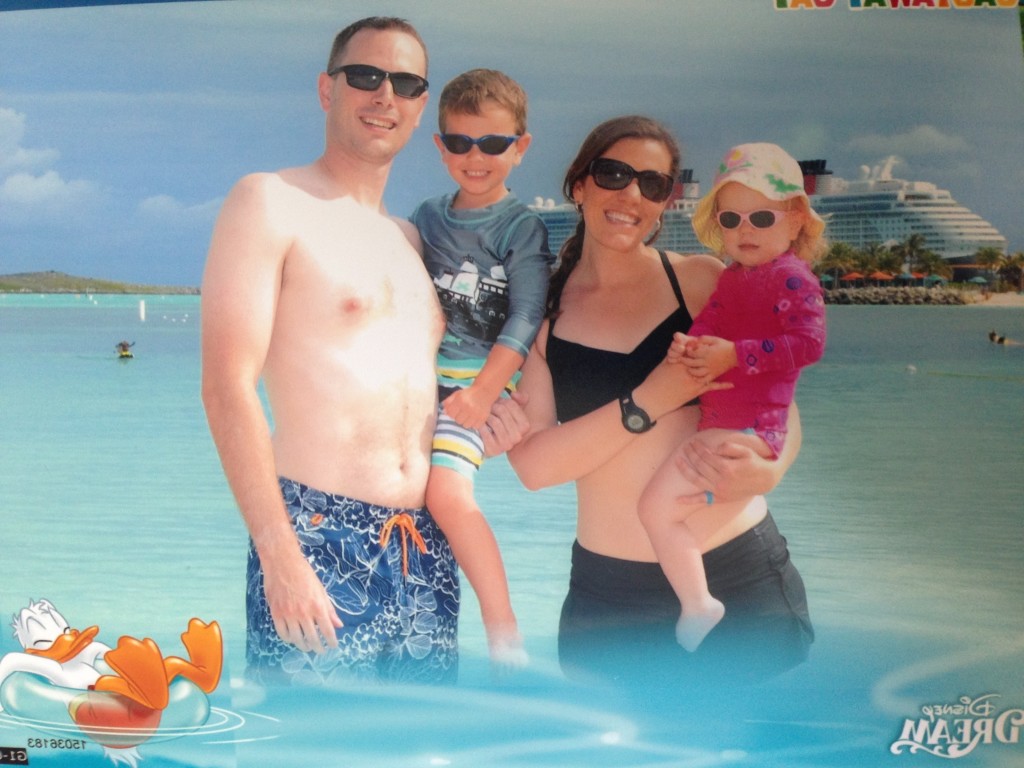 1.    If possible, get a veranda room
Our kids took naps on the ship most days, and went to bed earlier than we did. Having a balcony was wonderful for sitting outside and hanging out while they got some rest. We kicked up our feet and enjoyed a drink (you can bring 2 bottles of wine or a 6 pack of beer per person. Make sure to bring a corkscrew and/or bottle opener.). On pirate night we were able to catch the fireworks from our balcony after Jack and Audrey went to sleep.  (Matt's tip: try for the 9th or 8th floor on the right or starboard side of the boat for best views. Mid-deck is also nice.)  My parents got the regular veranda room which was wonderful and very spacious for two people and had the same balcony. We got the family veranda room which was even a little bit longer, giving more room for Jack's couch-bed (with rails!) and Audrey's pack and play. As an aside, I was a bit nervous about the balcony before seeing it. It is totally enclosed and worry-free with toddlers.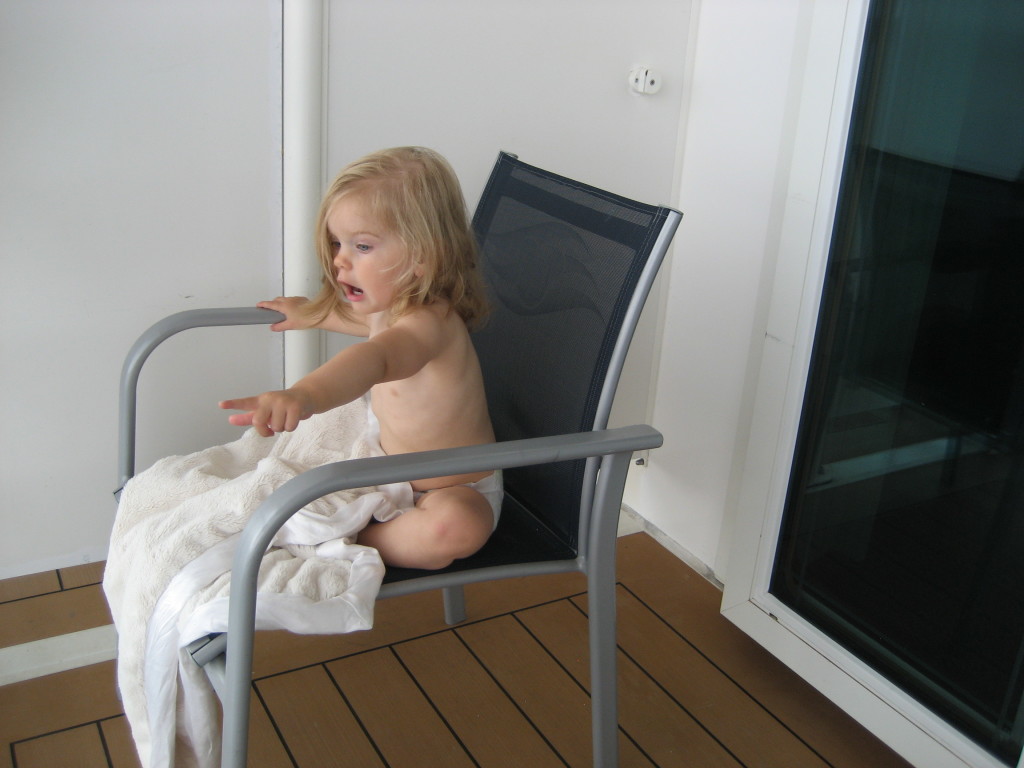 2.    Book the early dinning time
The early dinning time is 5:45 and the other option is 8:30. I don't think we would have ever made that option! We were assigned to the later time initially, and kept calling and checking in to make sure our name was on the waiting list for the earlier time slot. About a week before the cruise we were able to move to the earlier dining time.
3.    Bring some beach toys
This was our kids' first time on a warm beach. It was great to have plenty of beach toys for them to share. We had buckets and shovels and brought some dump trucks from home. It made the sand even more fun. (Note:  you don't need beach towels. They hand them to you when you debark the boat on Castaway Cay.) We went to the family beach. There is also a bigger kid beach with play equipment in the water – that our kids weren't big enough for so we didn't head that way.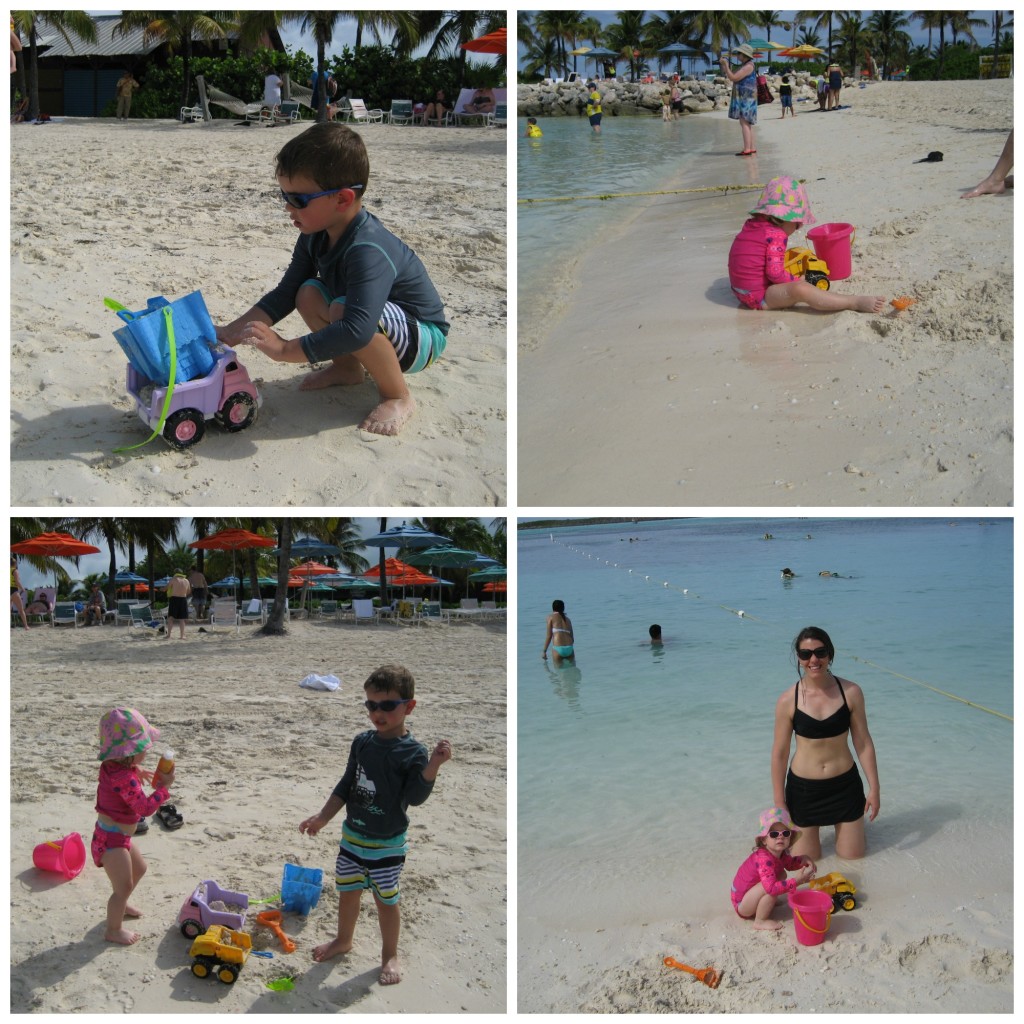 4.    Don't be afraid to try out the shows and leave whenever you want
That's the beauty of all of the shows being included, AND of being with lots of other families. No one expects perfect show behavior. We went to each show being ok with ducking out whenever it was time. We got a chance to see lots of singing and dancing that we otherwise wouldn't have seen. The balcony is a good option if you know you'll be leaving early.
Short video of Audrey dancing before crashing hard for the night:

5.    Get to your room early on the first day
You are allowed in your room around 1:30/2pm on boarding day. We knew there would be a mandatory emergency drill at 4, but we didn't know the alarm would start at 3:30. If you have little ones who nap, get to your room early so they can get settled and get decent naps before the alarm starts.
6.    Request a pack and play
We had briefly considered bringing ours. Don't! They have it all set up and it was in perfect condition. We also requested a diaper genie for the room. Good decisions all around that made for very easy travel. If you have an older toddler sleeping on the sofa bed, you can request bed rails. They were solid for our wiggly Jack.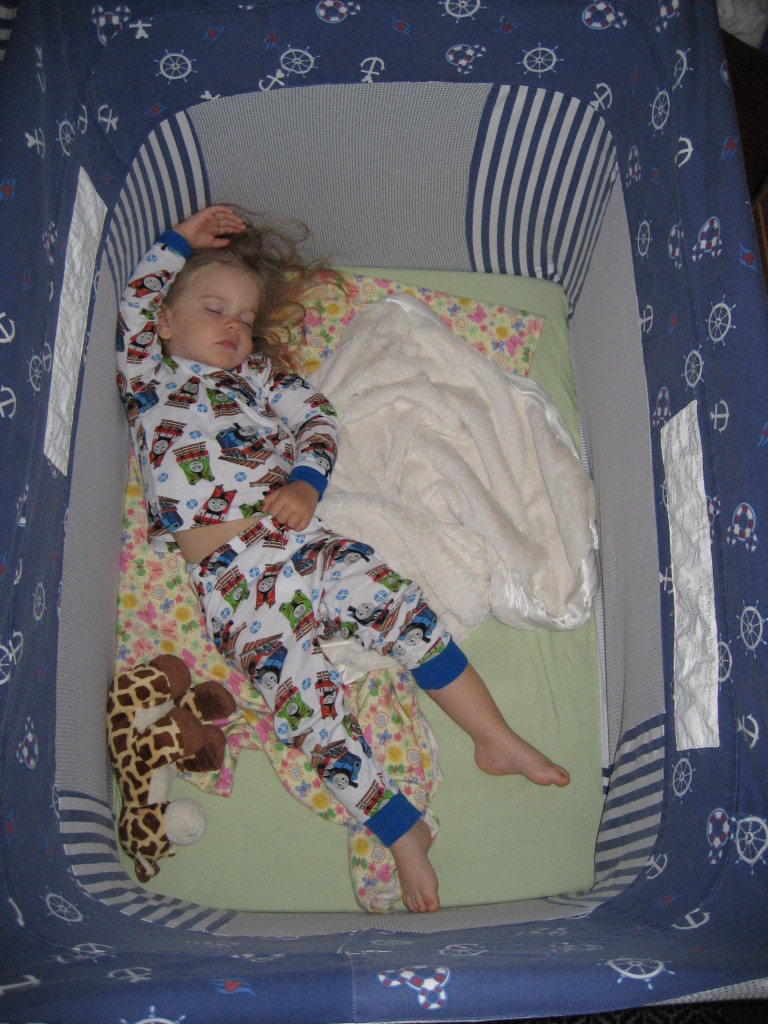 7.    Pack a "carry-on" bag for the first day
Bags might not be delivered to your room until about 5pm on the first day, so make sure you have everything you need for nap, diaper changes, outfit changes, white noise machine, etc. in a carry-on bag.
8.    Little tidbits
-Sign up for earliest embarkation time. You don't have to board at that time but you can as soon as you're in the area.
-Disney transfer from the airport was SO easy.
-If you can easily bring 6-12 water bottles with you, it is nice to have on the beach and to keep offering when you're out and about.
-The Cove Cafe coffee bar is in the adults only area on Deck 11. Its not obvious immediately. They have cold brew coffee…wish I would have found this earlier. (All the drinks and food there are an additional fee)
-There are a couple of breakfast options (regular buffet, menu full-service, and buffet with drink service). With little kids I really liked the buffet with drink service. We could get the kids food and have drinks brought to us…and lots of coffee.
-Bring alphabet magnets for your room door. We spelled out our names (and brought some for Gigi and Bapa). It made going back to our room fun, and made finding our rooms very easy.
-Bring clothespins to pin wet bathing suits to chairs on your balcony.
-Bring a laundry bag to easily stash dirty clothes to pack home. (will try to remember this one for future travels)
-A small air freshener/candle is really nice for keeping a small room fresh.
-Get room service ice cream Mickey bars. They aren't on the menu but are available….And they are delicious!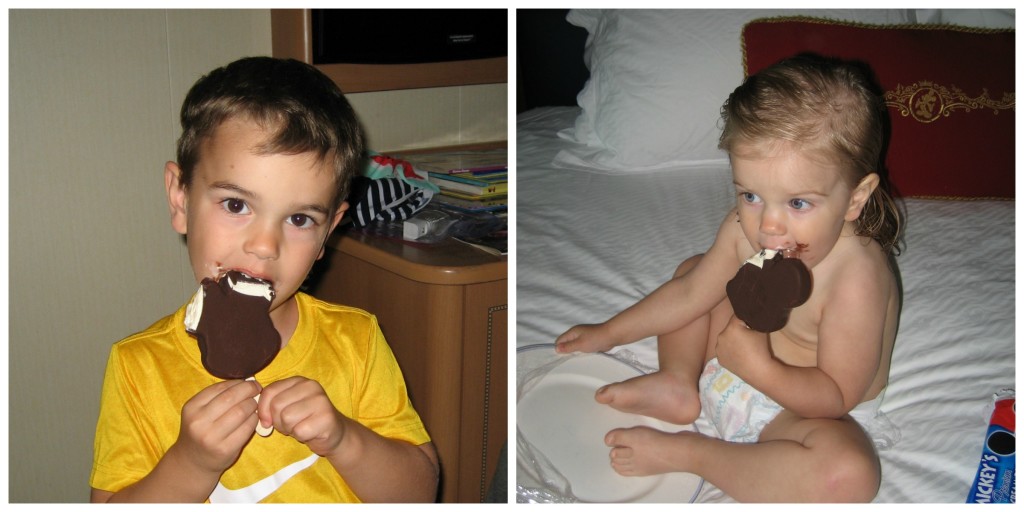 -Take plenty of pictures and videos. We loved having Matt's GoPro camera with waterproof case for the following little videos

-Enjoy being a big kid with your kids. It pretty much rocks!