Hi!  Hope your 2015 is off to a great start and that if health is a priority to you in the new year you are making strides every day to your goal.  I love the fresh beginning of a new year and enjoy the time to set new goals.  As we adjust to being a family of four I'm recommitting getting balance back in my life by getting at least 5 workouts a week.  It makes me feel good to get plenty of movement in a week, and I am much more patient mommy when I take time to do that.  I wanted to share a couple of these workouts in particular because they are great to do from home or could be fun to mix in to your week.
This week's workouts:
Monday:  Mustered up the motivation after getting everyone in bed for as many rounds as possible (AMRAP) in 30 minutes of:
10 squats
10 TRX rows (sub band or dumbells if you don't have a TRX)
10 push-ups
10 sit-ups
This is a great one to do at home if you weather keeps you from getting out.  Go at a fast pace to keep your heart rate up.
Tuesday:  Taught spinning to a crowd of awesome students.  Always a great workout with them!
Wednesday:  Tabata sets. (Get the app for your phone – So worth it!)
#1 Mountain climbers & push-ups
#2 Air squats & jumping lunges
#3 tricep dips & pulsing plie squats
#4 burpess & jumping jacks
#5 V-up sit-ups & Bicycles
Thursday:  P90X "Isometrix" – combination of balance, coordination & flexibility from "tough" yoga poses.  Taught TRX (but it was much more coaching than my own workout) + 1 mile run
Friday:  Taught spinning – my crazy 6am crowd. Love them!
Saturday:  1 mile run warm-up then this rowing workout from Peanut Butter Runner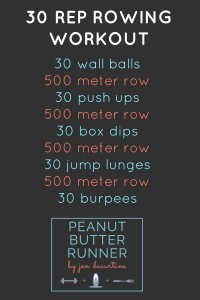 Here's to a great start in 2015!  What was your favorite workout this week?