Even though he is only 10 months old, I think Jack is a lot like me.  I went to a yoga class last weekend.  It was my first one since maternity leave (wowza!  How did that happen??)  and was a wonderful class…but there were a couple of funny little incidents.  About 20 minutes into class a lady with THE LOUDEST FLIP FLOPS EVER came trudging into class and threw down her mat.  She wiped out during a fairly normal pose, got up and yelled "I'm ok!"  At that point I was looking around the room for a camera because I figured her antics were a joke.  Sometimes loud, disruptive people in the middle of a yoga practice annoy me but I found this experience especially amusing.  I came home after class to have dinner with my guys and when I was telling Matt the story and laughing hard, Jack started laughing so hard he gave himself hiccups.  This guy likes a good joke, and had me laughing even harder.  This little funny guy is SO my kid.
In addition to appreciating my humor, he seems to appreciate my favorite foods too. I made two batches of this:  one to have for lunches throughout the week and one to puree to freeze in pouches for Jack to enjoy later.  I originally only made one batch but when he finished two baby bowls of this dinner I knew I had to make another for just him.
This is a great one to make over the weekend to enjoy leftovers all week.  The flavors meld together nicely and this can be served warm or cold.  I especially recommend crumbling a piece of manchego cheese over the top of it.
Roasted Veggie Quinoa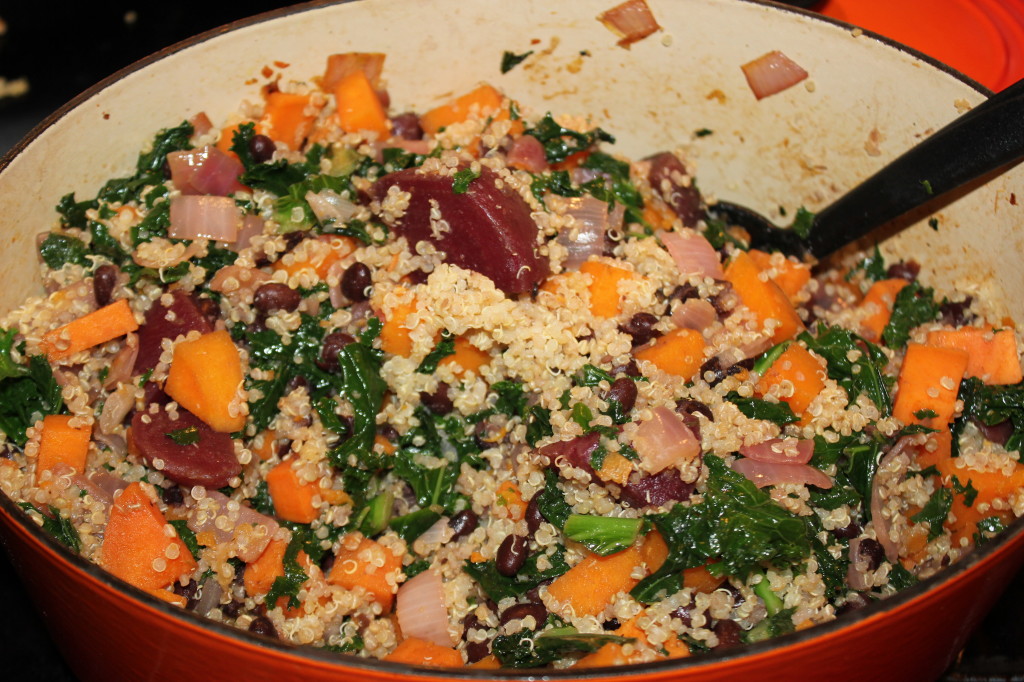 Ingredients:
1 cup of quinoa
3 medium sweet potatoes, peeled and chopped
1 medium red onion, chopped
1 large bag of kale, roughly chopped
1 can of beets (sliced or chopped is fine.  Just get regular, not pickled)
1 can of black beans, rinsed
Olive oil
Salt and pepper
Balsamic vinegar
Directions: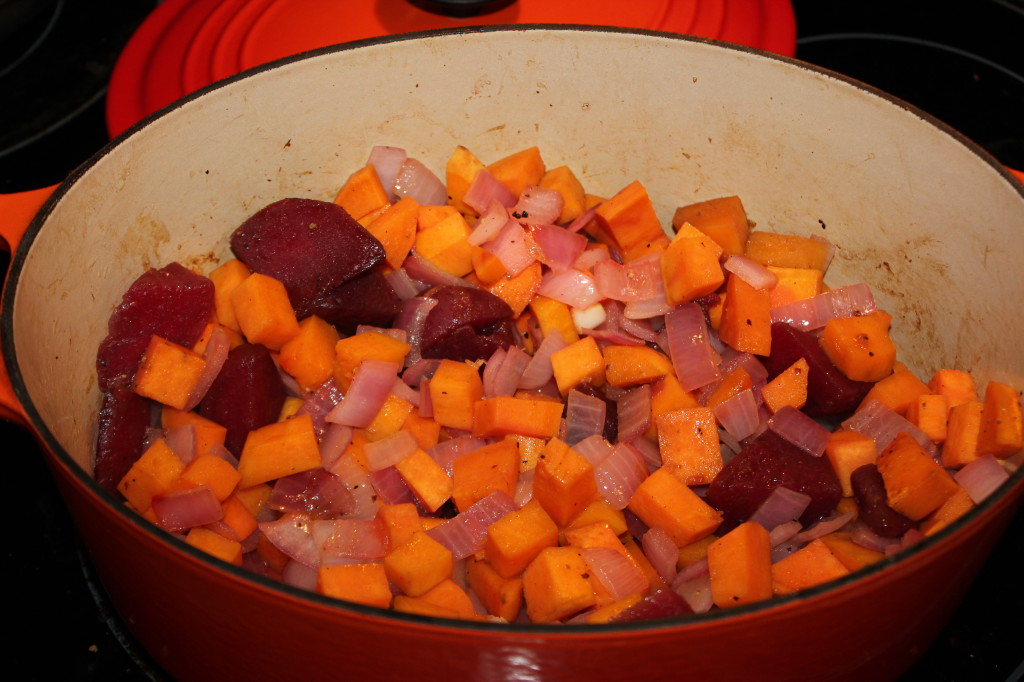 Preheat oven to 400.  Place sweet potatoes and red onion in a dutch oven of oven save dish.  Drizzle with olive oil and season with salt and pepper.  Stir.  Place in oven for 20 minutes.
While veggies are roasting, cook quinoa according to directions.  (I highly recommend using a rice cooker).
After veggies have been roasting for about 20 minutes, remove from the oven and stir in as much kale as you can start to wilt.
Place the veggies back in the oven for another 10 minutes.
When the veggies are done roasting, add the quinoa the veggie mixture.  Add the beets and the black beans.  Stir to combine.  (at this point I removed the amount I was going to puree for Jack)
Add a healthy amount of balsamic vinegar and stir to combine.  Feel free to add additional salt and pepper to taste and then serve…or portion out individual servings into Mason Jars for lunch throughout the week.