Hello!  Long time no see.  Life seems to have gotten busy, but when doesn't life seem busy?  I made these enchiladas two weekends ago and was planning on sharing the recipe right away.  I made them on a day when Jack was really asserting his independence and I went to bed wondering how time went by so quickly.  The next day, when I planned to write up this recipe, he woke very early into his nap and seemed to want to be held.  Instead of doing anything "productive" that I always scurry along to do during nap time, I held him, rocked and sang as he slipped back to sleep.  When I looked at his beautiful sleeping face, and smelled in his sweet baby hair, I soaked in every minute of that hour…one of the best hours of my whole week.
Long intro to let you know that this recipe makes two batches.  Enjoy the first right away and freeze the other to enjoy on a weekend that you are busy living life to do much cooking.
Chicken Enchiladas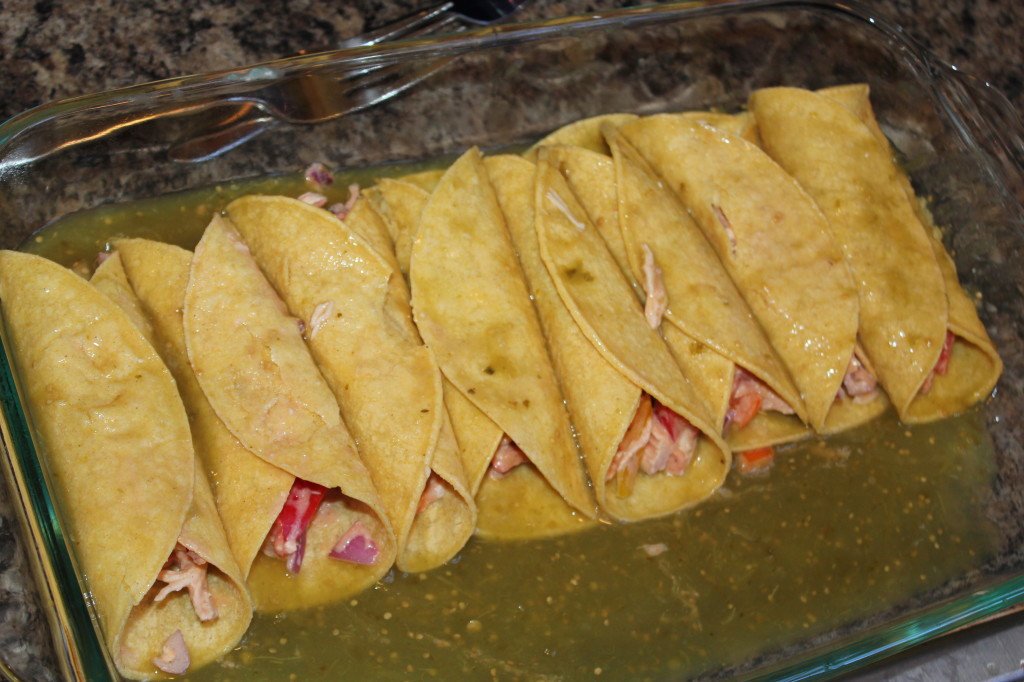 (Based on this recipe in the October 2013 Cooking Light)
2 chicken breast halves
2 medium carrots, chopped
2 bell peppers, chopped
1 onion, chopped
1 jar salsa verde (16 oz), divided
6 oz cream cheese (I used 1/3-less-fat)
20 (6-inch) corn tortillas
¼- ½ cup shredded sharp cheese
salt and pepper
garlic powder
Pre-heat over to 400.
Sprinkle the chicken breasts (both sides) with a good does of black pepper and garlic powder and some freshly ground salt.
Pan sear the chicken breasts over medium heat for about 2-3 minutes per side.
Put the chicken in a baking dish and bake in the oven for another 20 minutes or until fully cooked.
While chicken is cooking, saute the onions, carrots, and peppers.
When chicken is done cooking, shred the chicken and combine with sauteed veggies and cream cheese.
Pour a small amount of the salsa verde on a plate and place a corn tortilla over the salsa to coat one side.
Fill each tortilla with a heaping ¼ cup of chicken mixture.  Place the filled tortillas into two baking dishes (one to bake now and one to freeze for cooking later).
Spoon the remaining sauce over the enchiladas and (optionally) sprinkle with cheese.
Bake at 400 for 20 minutes, if you're planning on serving today.  Freeze remaining baking dish before baking if you plan to enjoy at a later date.