I hope your week is off to a great start and that you feel refreshed after the weekend.  Last week was a little draining and made me enjoy my weekend even more than usual.  Jack and I spent a lot of time outside on Friday.  It was his first time to play on a blanket in the yard and the first time to feel grass on his little tootsies.  He was one happy baby!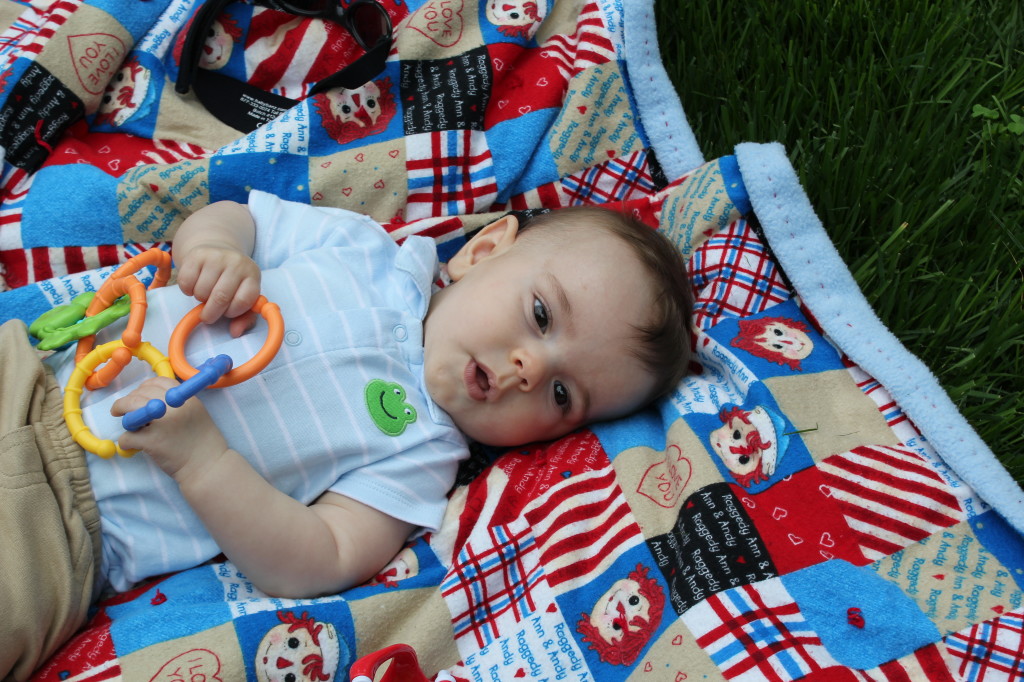 Saturday started with morning cuddles before heading off to teach spin class.  I had a woman stay after class to say she came to my last class before Jack was born and that the class changed her perspective on fitness.  She was viewing exercise as just another thing to check off the list, but got a kick out of seeing how much fun I seemed to be having even with a belly full of baby.  What a great feeling to be able to have a positive influence on someone!  It is easy to take our bodies and our abilities for granted.  There are plenty of people side-lined out there who would love to be able to have your capabilities.  Being able to move your body is a gift.  Get a smile on your face and get going!
The rest of our Saturday involved grocery shopping with my sidekick, HopFest with friends, plenty of laundry and a graduation party.  Sunday started with jogging with(out) Jack before Jack's BFF, Meyer's, baptism party.  What cute boys!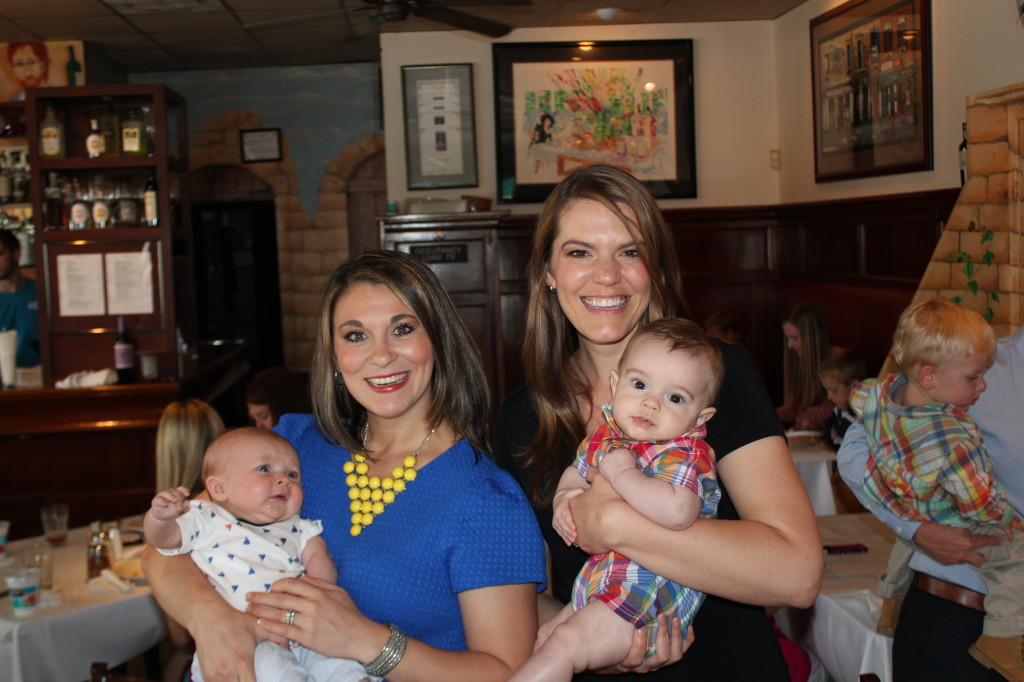 Sunday continued with more picture taking and lots of family time.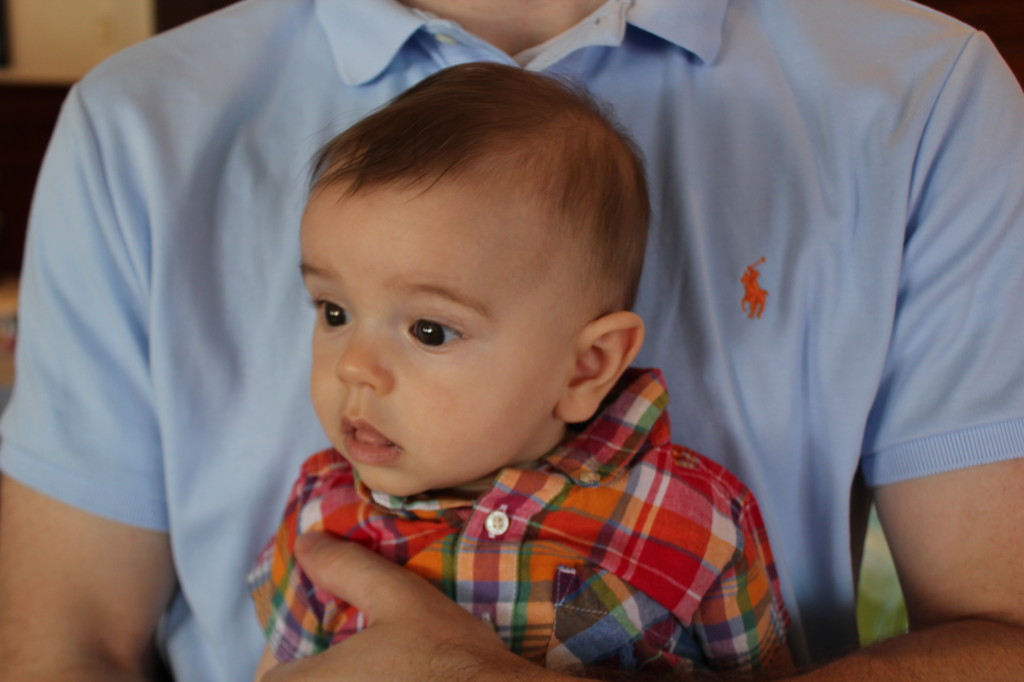 During his last nap of the day, Matt and I chatted, chopped and put together these salad jars for the week: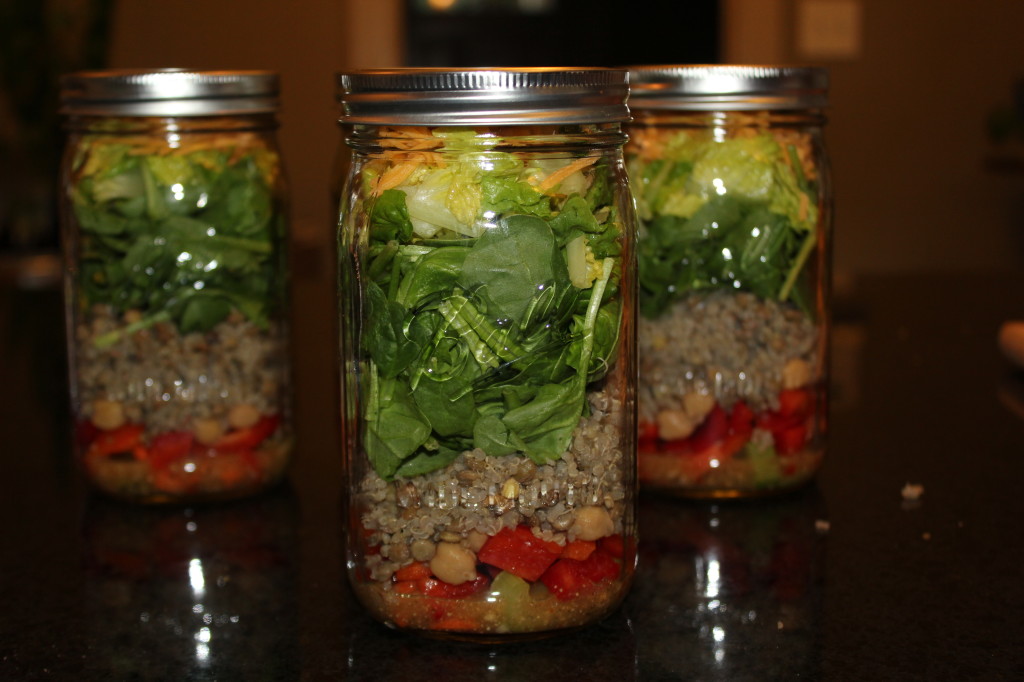 Quinoa/Lentil/Chickpeas Mason Jar Salads
Bottom layer: Italian dressing
Next layer:  chopped carrots, chopped celery, chopped bell peppers
Next layer:  lentils and quinoa mix
Next layer:  chickpeas
Next layer:  spinach and romaine lettuce
Final layer:  sharp cheddar cheese
This has been my favorite salad so far!  I love, love, love cold quinoa and lentils on my salad.  It is always my go-to at the salad bar at Whole Foods.  I cooked the lentils and quinoa together in my new rice cooker.  I think I'm in love with this appliance…after I experiment more I will give some details.
I saved the best for last (at least by my new standards).  I am making an effort to live in the moment and slow down to enjoy the little things.  Time is going by so quickly, and I am reminded of this fact every time I look at Jack.  Sunday was his first big rainstorm.  Matt, Jack and I stood in the door and let the wind hit us as we watched the rain together.   He kept turning around to look at us with his eyes and his mouth open as if to say, "Do you guys see this?!"  I think I was as thrilled to watch Jack's reaction as he was to see the rain falling.
I hope your week brings many happy small moments and the ability to slow down and enjoy them!