It's funny – I had essentially no sweets cravings during pregnancy.  (But don't even ask how many bags of frozen green beans I consumed or how many times I suggested some sort of beef dish for dinner)  But, unfortunately, my sweet tooth came back and I am trying to tame the beast.  I was trying to satisfy my sweet tooth with a piece of fruit after lunch but that really wasn't cutting it.
After my friend, Megan, posted about her homemade Lärabars I thought they could be the perfect solution.  Lärabars are so yummy and have a very simple list of ingredients:  Dates, nuts, mix-ins, spices.  So last weekend I finally tried out a couple of variations.  These bars can last for about a month in the fridge so I made a couple of types so that Matt could take them for lunch too.
Apple Pie Homemade Lärabar
(adapted from this recipe at Rawified)
Ingredients:
½ cup almonds
½ cup walnuts
1 cup dates, pitted
½ cup dried apple rings, diced
½ cup raisins
3 tbsp cinnamon
Directions:
Combine the nuts and dates in a food processor.  Process for about 2 minutes, or until the ingredients start to form a sticky "dough."
Add the cinnamon to the dough and combine for another 30 seconds or until you can see the cinnamon throughout the dough.
Add the dried apples and raisins and pulse until combined, making sure not to overprocess or liquefy the dough.
Get six pieces of plastic cling wrap ready
I love anything cinnamon so I knew that this would be a hit with me.  Matt likes chocolate so I made a chocolate chip version too.  Same basic directions as above but with these ingredients:
Chocolate Chip Cookie Dough Lärabar Ingredients:
And because I had coconut on hand, I made these two as well:
Choco-Coco Lärabar Ingredients:
1 cup mixed almonds and walnuts
1 cup dates
2 Tbsp cacao powder
1 cup shredded unsweetened coconut
Key Lime Pie Lärabar Ingredients:
1 cup almonds
1 cup dates
Juice of 3 Key Limes
1 cup shredded unsweetened coconut
The verdict?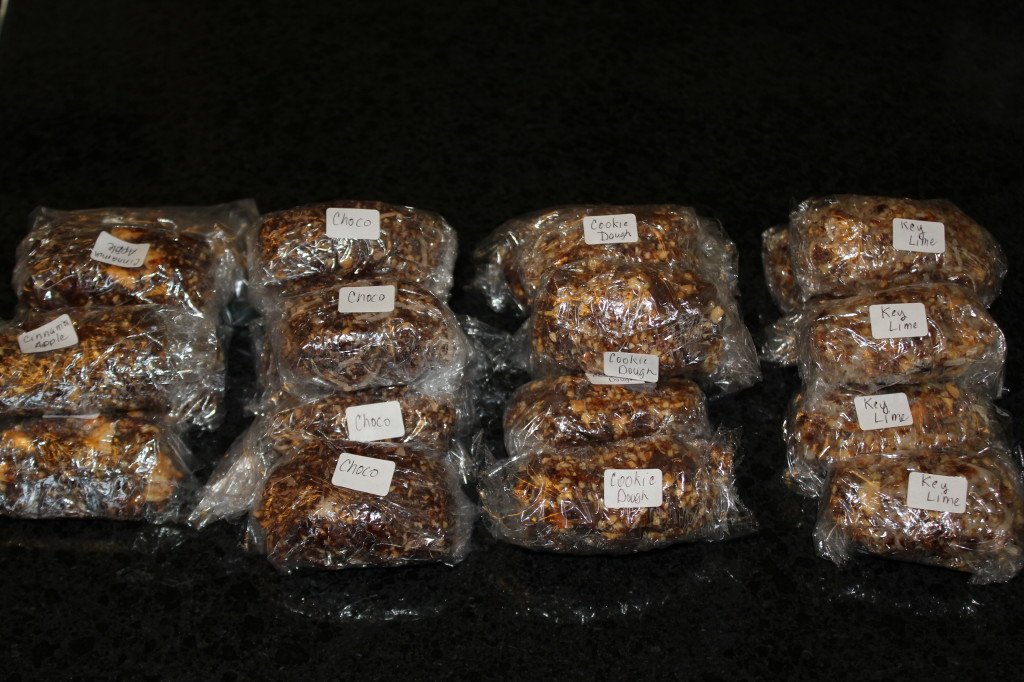 Matt loved the cookie dough bars and is working his way through the six.  I decided he liked those so well I wouldn't try them and would leave all for him.  I love the apple pie bars and really liked the choco-coco.  I'm just so-so about the key lime pie.  Despite a good amount of lime juice, the almond flavor was overwhelming.
Do you have a favorite Lärabar flavor?  I'm looking for flavors to try out after this stash is gone.