I might be a little late to the Mason Jar salad party (salad party…whaaat?) but I am happy that I finally tried it out this week. Isn't this beautiful? (Well, not my photography skills. I have a lot to learn and need a lot of practice. )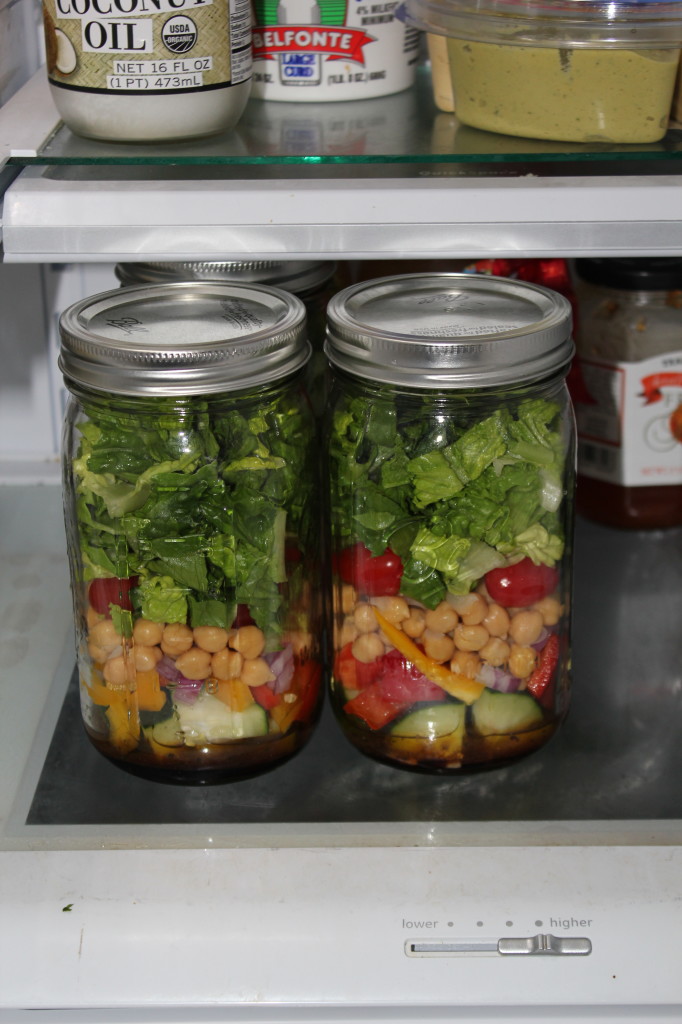 I take a salad to work for about 80% of my lunches. This has meant cleaning and chopping veggies nearly every Sunday, and dividing those veggies into multiple separate containers. You see I don't like to premix my salads. There is just something unappetizing to me to have all of the beautiful colored veggies and proteins at the bottom of a bowl of wilted lettuce. So I typically portion out a daily serving of protein in one container, and then all of the mixed veggies for the day in a separate container, and my greens in a third container. For 4 days of salad this meant 12 containers (Impressed with my math skills? Why, yes. I AM an engineer)hogging room in my fridge, not to mention the constant experiment of how to best bring salad dressing.
This week I did the same prep of cleaning and chopping but layered my ingredients nicely in a jar for my Monday-Thursday lunches. The lettuce was still crisp and the salads were very fresh. Here's a quick how-to for Mason Jar Salads.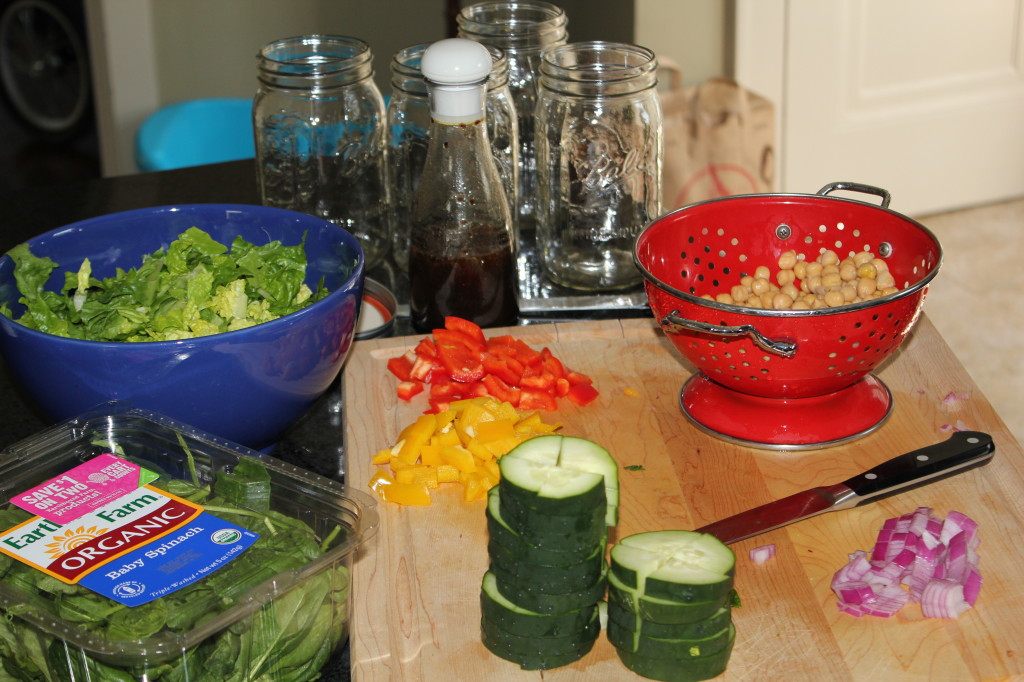 Mason Jar Salad Directions:
It is really important to make sure your jar and all ingredients are dry before layering so you don't end up with a soggy salad. I used the wide mouth quart-sized jars. It might not look like a huge jar but it completely fills a restaurant size bowl. I also dump my jar into a bowl rather that eating directly from the jar. Seems easier to eat and I like having the layers mixed together.  After some research and planning this is what I have found to be the optimal layering method:
1. Bottom layer – dressing
2. Second layer – hearty vegetables (think cucumbers, peppers, beets, carrots, onions, etc.) These vegetables will marinate in the dressing so keep that in mind when picking your dressing and veggies.
3. Third layer – proteins (beans, eggs, or meat). You could also do a grain here if you wanted.
4. Last layer – greens.
For my first salad I used:
1. 2 Tbsp of a homemade balsamic vinaigrette dressing
2. Cucumbers, peppers, red onion, grape tomatoes
3. Chickpeas
4. Chopped romaine lettuce
I didn't think cheese would be great in the jar so cheese is one of your favorite ingredients I would recommend brining it separately. I love avocado on my salads but it is definitely an ingredient that I like fresh so I will bring it separate when I decide to incorporate it.
Very easy way to get lots of fresh vegetables in your week and a very easy lunch to grab from the fridge on your way to work. Matt likes salads too but rarely takes one to work. He said I could sign him up for a couple next week. I think this will become a regular lunch in our house, so again I would love suggestions. What are your favorite salad combinations?