I hope everyone had a wonderful weekend!  Mine was full of friends and food.  Oh, yeah.  And this little guy.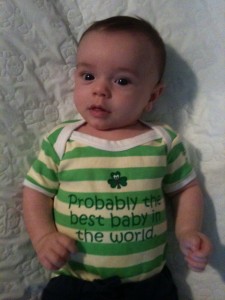 (Thanks for the cool shirt from Ireland, Auntie Tina!)
I like sitting down on Sundays to do some meal planning and workout planning for the weekend.  Today's meal prep included making plenty of steel cut oats to reheat throughout the week, roasting beets and sweet potatoes to add to salads, and making a beef goulash for Matt's lunches.  Doing some of this prep givse me a head start to making healthy options throughout the week.  (As an aside, steel cut oats are supposedly a great food for mama milk production so I have been trying to have oats for my daily breakfast.)
Planning my workouts on Sunday makes me think about getting a good variety of exercises and makes me more efficient throughout the week.  If you're in the Kansas City area and planning your workouts for the week I'm subbing spin on Friday 7am and teaching my regular every other Saturday 7:45am spin class, both at City Gym. 
I hope you had a wonderful weekend and that your week gets off to a great start.  If you're looking for some early week inspiration I finally updated the "Favorites" tab with some of my favorite blogs and resources.  Enjoy!